For Sale: Independent Tuscan Villa |
Region/Country: Tuscany, Italy |
Location: Villafranca in Lunigiana |
Volume: 1350 m3 |
Habitable surface: 425 m2 |
Grounds: 1200 m2 |
Number of floors: 4 |
Number of rooms: 14 |
Bathrooms: 3 |
Nearest International Airport: Pisa
Floor Plan: upon request |
Info: tel. 0031 (0) 6 21 88 33 91 |
————————————
The villa dates from 1901. The current owners have renovated the exteriors completely and thoroughly with respect for the building's authentic character.
The complete roof has been replaced, including its supporting structure. All ground floor windows have been replaced. All external shutters have been replaced. Local artisans have restored the castle-thick walls.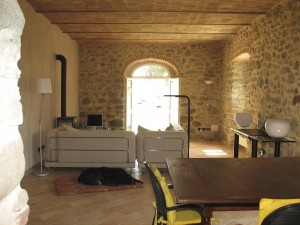 All constructive elements of the villa, both inside and outside, have been restored. A completely new infrastructure has been constructed from the street all the way into the house. A completely new system of plumbing, piping and heating has been constructed on the ground floor. The only thing you have to do is decide how you want to use the other floors of the building and outfit them accordingly.
(click on photos for a larger picture)
The villa is spacious enough and laid out well for three separate families but also extremely suitable for a bed & breakfast or a small boutique hotel. All preparations have been made. You can decide on the final layout and functionalities. A number of spacious apartments, a hotel/restaurant or one grand house for your own personal use?
The villa is set on grounds of 1200 m2 and can be accessed by car or on foot from two sides.
Part of the grounds has the legal status of building grounds, which allows for the additional construction of a double garage, stable or barn.
Lay out:
Ground floor (garden level): fully restored with exclusive building materials and respect for the authentic structure. Partially brick vaulted ceilings. This floor is currently in use as the apartment of the present owners.
Layout: living room*, kitchen*, bedroom, study, fully equipped bathroom, separate toilet, washing room, workshop.
(click on photos for a larger picture)
"Bel-etage" (street level): Layout: living room, kitchen, two bedrooms. Large terrace on the front side. (3,20 x 12m)
(click on photos for a larger picture)
Entresol: Two bathrooms.
(click on photos for a larger picture)
2nd floor: 5 rooms. These still need to be adjusted to modern standards.
3e floor: Attic. Mostly standing height. Completely new roof. New supporting construction, roof covered with new Tuscan, terracotta roof tiles. The floor on this level has also been replaced.
All construction has been executed by excellent local contractors and artisans under the supervision of a local "geometra", respecting local building traditions and authentic details* and with all required building permits.
For any future construction plans, the current owners will be happy to help you on your way.